Weddings
Consider Swann Stables for your destination wedding
Our 50-acre estate offers many options to make your special day truly extraordinary. We have indoor and outdoor options for large parties as well as smaller, private accommodations for more-intimate unions. Feel at ease knowing we only host one wedding per day and are fully focused on you and your guests.
Shari Coleman, the proprietress, comes from a television and theatrical stage design background. You'll find her experience and expertise to be inspirational and valuable.
Each wedding is as diverse as our guests. Couples of different nationalities, LGBTQ+, and blended families have celebrated their love for each other at Swann Stables. We're honored that you would consider us and our hearts are open to everyone.
Past guests have hosted outdoor ceremonies and alfresco receptions under the stars. Our Victorian-style horse-drawn carriage and white dove release add a storybook touch and style to any wedding.
Whether you prefer the rustic intimacy of the carriage house or the country ambiance of the milk parlor, Swann Stables offers unforgettable settings for your ceremony.
Choices abound with areas for first dances, toasts and speeches. Our staff also provides transportation for your guests by tram between the private parking area and the main property. Musicians and DJs have their own power source for lights and electricity, and a full-sized kitchen in the milk parlor can handle any additional demands, as well as provide a working space for caterers.
At Swann Stables, have the wedding of your dreams by customizing any detail to fit your style, personality and expectations all the while knowing our staff is available to answer questions day and night.
We now offer multiple wedding packages, too.
Call Shari and John Coleman today at 865-642-2220 or 865-223-8500 to start your wedding planning.
All-Inclusive Wedding Packages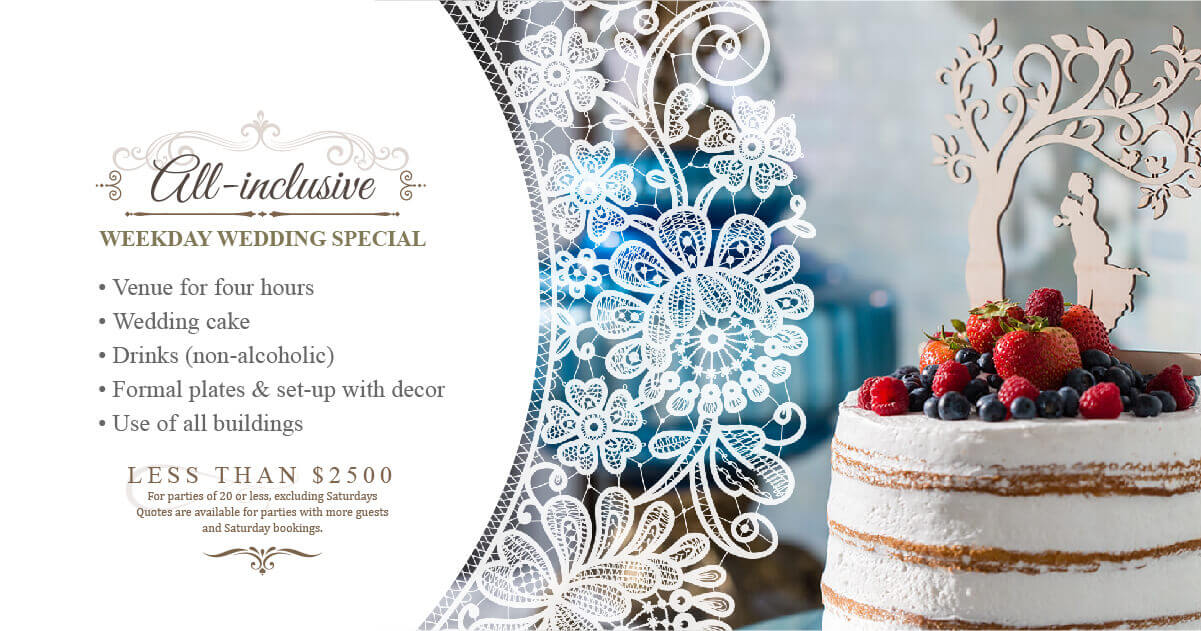 Our All-Inclusive Weekday Wedding Special Features:
Venue for Four Hours
Wedding Cake
Drinks (non-alcoholic)
Formal Plates & Decor Setup
Use of All Buildings
All for less than $2,500!
For parties of 20 or less, excluding Saturdays. Quotes are available for parties with more than 20 quests or Saturday bookings.